Mail and Other Deliveries to Offices
Deliveries to buildings will be coordinated via Campus Mail Services, including FedEx, UPS, and USPS. For more information contact Glenn Strause at ghs2@lehigh.edu. Specialized direct deliveries may be coordinated between departments and vendors as needed.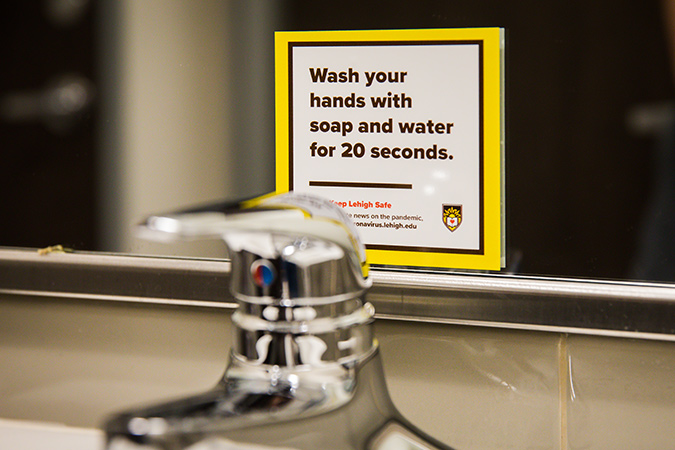 Space Modification
Classrooms and teaching laboratories will be re-configured to provide for social distancing and the set-up should not be modified without consulting LU Facilities first. Public spaces will have reduced seating capacity, with furniture rearranged when possible, and other locations taped-off to ensure social distancing.  When deemed necessary, plexiglass panels and other physical modifications  are being installed in high-traffic transaction areas around campus.
Signage: Signage with important safety reminders will continue to be posted throughout campus buildings. There are large banners, elevator and fixture signs, floor graphics and posters with health and safety reminders. Several of these signs are available for download and printing on the resource page. There are also departmental or office-specific signage which includes signs for athletics, transportation, labs, etc.
Sanitizer Stations: Facilities will install and maintain hand sanitizers in public spaces in all buildings on campus. Stations will be located at entrances to all buildings, high traffic areas, and outside dining areas.
Ventilation: Where possible, HVAC systems that introduce fresh air into the buildings will have the percentage of outdoor air settings adjusted to maximize the amount of fresh air movement through the building. The percent of fresh air will be adjusted to as high as possible based on outdoor temperatures, humidity, and the capacity of the unit to heat/cool the desired percent of fresh air. All HVAC systems have received, and will continue to receive, regularly scheduled preventive maintenance. Filter changes will continue to follow ASHRAE guidelines.
Additional Safety Measures: Non-bottle fill water fountains have been turned off. Hand dryers are disabled and automatic paper towel dispensers will be installed in restrooms where needed. When applicable, some restroom faucets may be temporarily disabled to maintain social distancing, with corresponding signage. When applicable, trash can lids may be removed in restrooms.
Cleaning Protocols
LU Facilities and our contractor, ABM, will continue to provide custodial services to all occupied spaces on campus. Delivery of services will focus on best practices for cleaning and disinfection in accordance with the latest Centers for Disease Control and Prevention (CDC) and Pennsylvania Department of Health (PA DOH) guidelines.
There will be an increased presence of ABM in our buildings as they will clean high-touch surfaces and high-traffic areas such as building entrances, door handles and common areas on an ongoing basis. Classrooms and restrooms will be cleaned by ABM daily.
High-capacity spray sanitizing will continue throughout campus, especially in larger spaces, to allow the most efficient process. Frequency will be dependent on function and activities within the building. Trash will continue to be removed from buildings daily. Individual office trash will be emptied weekly unless placed outside the office.
Classrooms: In addition to daily cleaning, each classroom space will be equipped with a spray sanitizer and towels for students and faculty to use prior to or after each class. LU Facilities will stock and maintain these classroom supplies.
Offices: Individual cubicle and office cleaning will continue to be completed weekly by ABM. Additional focus will be given to cleaning and sanitizing touchpoints. Before leaving any room in which there has been working or eating, it should be wiped down with an EPA-registered disinfectant. This includes private workspaces or any shared-space location or equipment.
Building Access
Building access will be limited to Lehigh faculty, staff, and students as follows:

Access to all buildings requires completion of the relevant COVID-19 training and acknowledgment.

All buildings will be locked and only accessible via card-swipe.

Academic buildings will be accessible via card-swipe during regular campus opening hours. Final campus and building opening hours are to be determined.

All faculty, staff, and graduate students will be permitted access to the same buildings but will require a Lehigh ID to gain entry.

Undergraduate residence hall or house access is restricted to students who live in the building.

Undergraduate students residing on campus (first-year students and those given permission for on-campus residency) will have access to their assigned residence halls and open campus facilities.

Undergraduate students residing off campus, who do not choose the "fully remote" option will have access to open campus facilities.

Off-campus students who choose the "fully remote" option and the 10 percent undergraduate tuition reduction will only have access to the Health and Wellness Center, which will remain open to all students regardless of registration status.

Everyone on campus is required to have their Lehigh ID with them at all times, and to display their ID card when in public spaces.

If your Lehigh ID is missing, email inIDEAL@lehigh.edu as soon as possible for a replacement. Your email must include your name and LIN for a new card to be issued. The $30.00 card replacement fee will be waived for requests submitted before August 15th.

 
Gatherings and Visitors Policy
Per the Pennsylvania Governor's order of July 16, 2020, indoor events and gatherings of more than 25 persons and outdoor events and gatherings of more than 250 persons are prohibited.  These rules are applicable to Lehigh events and gatherings, with the exception of the following based on further input from the Department of Education and Association of Independent Colleges and Universities of Pennsylvania:
The order does not apply to spaces that are being used for academic instruction or dining halls.  
CDC guidelines on social distancing and physical barriers should still be used in dining halls, along with public health and safety measures as to how classrooms are configured (distancing and monitoring entering and exiting classrooms)
Events or gatherings tied to Lehigh academic work, student affairs functions, athletics, and performances are permitted, if limited to Lehigh students, faculty, and staff. All events are expected to submit an

event safety management plan

to ensure that appropriate guidelines and procedures are in place which ensure the health and wellness of the Lehigh community. 
All events in general will be limited and subject to approval. Non-University affiliated public gatherings are not permitted for the Fall semester, regardless of size. Note the following considerations and exceptions:
Use of facilities for performance by outside groups may be permitted if there are no people in attendance. This would include allowing a performance at Zoellner Arts Center for a virtual concert without a live audience. Similar rules might apply for athletic events or other activities.
Public visitors may be permitted on campus when directly overseen by Lehigh faculty and/or staff. Public visitors must be registered (supplying contact information) and able to complete COVID-19 screening either online or using a hard-copy form.
The policy may be reevaluated and revised during the course of the semester pending the trajectory of the virus and conditions on campus and in the region, as well as any changes in policy from the Pennsylvania Governor's Office or Department of Health.